After slugging it out for four consecutive days on various baseball parks in Hong Kong, the Asia Insurance Phoenix Cup 2016 WBSC Hong Kong International Women's Baseball Tournament already has its worthy winner, as debutant Venus Stars from Japan put on a clinic and took home the impressive Defenders Cup, generously handed out by the World Baseball Softball Confederation (WBSC).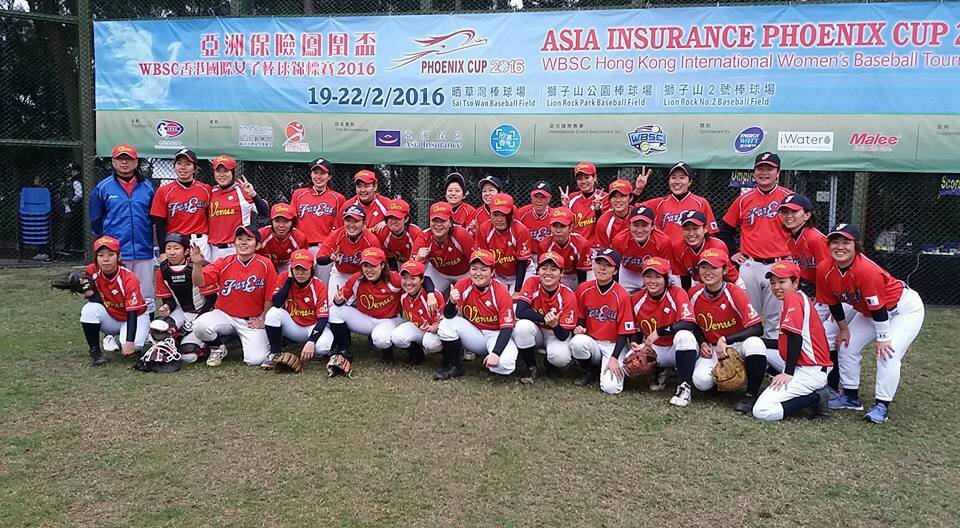 Shimura Akiko, who represented Japan in the Women's Baseball World Cup, led Venus Stars to the crown and spoke of her delight on sampling the unique Phoenix Cup experience for the first time. "I am very happy to be able to watch some of the other women's baseball teams in the tournament, utilizing the occasion to make new friends. The Phoenix Cup is such a great tournament and I hope to have the opportunity to come back and compete in the future," said the Venus Stars outfielder.
Far East Bloomers pitcher Kokubo Shino returned to the Phoenix Cup battleground after a six-year hiatus. The commanding pitcher powered her team to a second-place finish and was satisfied with the result. "We came here with the target of winning the championship but fell short of achieving that. However, my teammates and I had given everything that we had and even if we had to settle for the second-place, we could have no regrets whatsoever," Shino stated.
Team Australia captain Emma French, a four-time Phoenix Cup participant, mentioned that luck was not on their side in this year's tournament. "We started the tournament strongly and put up a lot of runs on the board. However, the rain put a halt on our momentum but thankfully, we came back strong at the end and defeated the home team to claim the third-spot. For me personally, I feel like I gain improvement every time I come here to play so that is why I really enjoy the Phoenix Cup tournament," the Australian pitcher offered.
Allies head coach Au Wing-leung spoke about his general satisfaction on the team's performance despite a fourth-place finish. "We have told the players prior to the start of the tournament that with all the personnel changes, it was going to be a very tough grind for them. Certainly tougher than the past. Thankfully, they all played very hard and pretty much did what we asked them to do. Unfortunately, sometimes even when you play well, the other team simply did better and that was the difference between winning and losing this year," Au said.
Text: Graeme Chan; Images: 901 Media and Agency